The pace of the roll-out of 'full' Universal Credit is set to ramp up in a few months' time.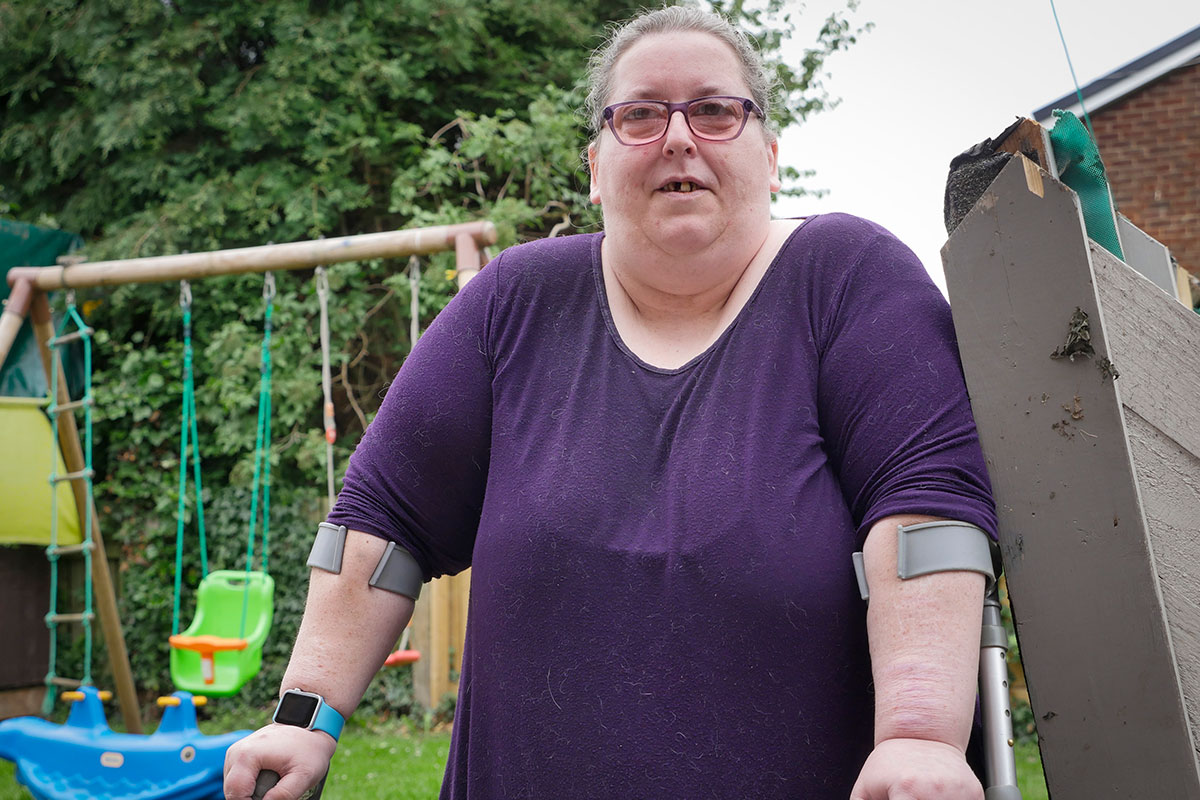 Jo King shakes her head in desperation as Vivaldi's The Four Seasonscroaks from her phone speaker. She has heard it countless times since she first called the Department for Work and Pensions' (DWP) Universal Credit (UC) helpline.
"I've rung up four times already," she explains over the garbled concerto. "If my Universal Credit is not there by the close of play, then my direct debits will bounce."
Ms King, who was born blind and struggles with an array of physical and mental health problems, was told it would be in her account by 2pm. It's now 3pm and there is no sign of the money. She could be fined £48 by her bank, which is a frightening sum for someone who needs every penny to pay for her care, bills and food.
"I won't have much left out of my benefit if I'm charged for the direct debits," she says when Inside Housing meets her at her homely council flat on the Newbiggin Hall Estate in Newcastle. "I will have to try to put something off until next month. Or it will be less food, probably."
Eventually, she is passed to a manager from the DWP's Grimsby call centre, who promises she will get her money. But Ms King, 43, has every reason to doubt his word. The month we meet, the DWP has already failed to pay her rent directly to Your Homes Newcastle, Newcastle City Council's 28,000-home ALMO.
Usually under UC, the money goes to the tenant, but tenants are able to make special arrangements to have their rent paid directly to their landlords. "I've not had one payment on time, or paid or worked out correctly," she says, fiddling with her dark hair anxiously.
Ms King started receiving UC –which combines six benefits, including housing benefit, into a single payment – last year. Previously it only applied to single, unemployed adults. The so-called 'full' version is now being rolled out to families with children and disabled people.
Since then, Ms King has frequently fallen behind with her rent. "I would get calls from my rent officer all the time saying 'have you been paid the rent, because we haven't been paid the rent?'" she says.
She has twice been left without any UC. Instead she relied on emergency food parcels and her disability benefit, which is supposed to pay for her care. "The food bank dropped stuff off for me. And they made me smile because they gave me a bunch of flowers," she says, still grateful for such a small act of kindness.
Rising pressures
Ms King's plight is not unusual. Across Newcastle – the government's official test bed for UC – 86% of the 2,271 council tenants currently claiming UC are in rent arrears, owing a total of £2.5m. Before UC was rolled out, only 53% were in arrears.
Yet in October, the roll-out of full UC is set to increase from five to 50 areas a month. By 2022, more than seven million households are expected to be in receipt of UC. This will include half of all families with children and nearly 60% of households where an adult is disabled or has a long-term health condition.
Nick Forbes, leader of Labour-run Newcastle City Council, warns UC is pushing people into debt and destitution. "We are having to pick up the pieces of a badly designed and badly thought through system, which is leaving people, who are often vulnerable, in serious financially difficulties," he says. "And that is not acceptable."
"We are having to pick up the pieces of a badly designed and badly thought through system."
Rather than evicting tenants waiting for payment, the council is offering advice and support, and, occasionally, emergency payments and food. "Staff in our customer service centre have tins of food in cupboards because people are presenting having not eaten for three days," says Mr Forbes.
But the council cannot stop private landlords taking matters into their own hands. "We know a number of people are starting to run up significant arrears in the private rented sector," he says. "And that increases their risk of homelessness through eviction."
Nor can it keep bailing tenants out for ever. Newcastle has had to cut £221m over the past six years and needs to find another £70m worth of savings by 2020. "Over the next two years we won't be able to provide the same level of support," says Mr Forbes.
Rent arrears pose other problems for the council: less money for housing maintenance and new homes. "It is yet another pressure on the Housing Revenue Account at a time when there is a huge drive to build new housing," remarks Mr Forbes.
The experience of other areas with full UC is equally troubling. A survey of councils and ALMOs by the National Federation of ALMOs (NFA) and the Association of Retained Council Housing (ARCH) found in July that 73% of tenants were in arrears, owing an average of £772.21, up from £611.73 a year earlier. This is far higher than the 31% of tenants in arrears under the housing benefit system.
A separate Citizens Advice survey in July found that 57% of UC claimants seeking its advice had been forced to borrow money while waiting for their first payment, which takes at least six weeks. It also showed that 39% were waiting longer, and 11% were waiting more than 10 weeks.
Evidence of hardship caused by these delays is easy to find. A report for The Trussell Trust, which runs food banks across the UK, found in April that food banks in areas with full UC roll-out had seen a 17% average increase in referrals, more than double the national average increase of 7%.
In the West End of Newcastle, there are already people queuing outside The Trussell Trust food bank at the Church of the Venerable Bede when Inside Housing visits at 9.30am, 30 minutes ahead of its opening. There is a young man in sportswear, an older woman and a young couple holding empty shopping bags. They look sheepish and apprehensive in the morning drizzle – nothing like the Benefits Street stereotypes.
Inside, washed-out light comes through a broken window. The hall was broken into the week before but staff managed to open the food bank, which featured in Ken Loach's acclaimed film I, Daniel Blake.