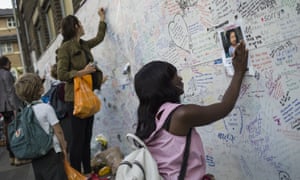 This, Theresa May, is what a people's public inquiry looks like. The sign-writers and passersby talking in the streets around Grenfell have grasped a truth that cabinet ministers are still fumbling towards: whatever and whoever a judge finds at fault – this procedure or that subcontractor – the true causes of the failures go far wider. They lie in the way Britain is run.
While in Victorian Manchester, Friedrich Engels struggled to name the crime visited on children whose limbs were mangled by factory machines, or whose parents were killed in unsafe homes. Murder and manslaughter were committed by individuals, but these atrocities were something else: what he called social murder. "When society places hundreds of proletarians in such a position that they inevitably meet a too early and an unnatural death, one which is quite as much a death by violence as that by the sword or bullet; its deed is murder just as surely as the deed of the single individual," he wrote in 1845, in The Condition of the Working Class in England.
Over 170 years later, Britain remains a country that murders its poor. When four separate government ministers are warned that Grenfell and other high rises are a serious fire risk, then an inferno isn't unfortunate. It is inevitable. Those dozens of Grenfell residents didn't die: they were killed. What happened last week wasn't a "terrible tragedy" or some other studio-sofa platitude: it was social murder.
By all means, let's wait for a judge to confirm the reports that the tower was covered in banned cladding, and that the 79 men, women and children confirmed to have died in the fire (at the time of writing) possibly did so for a grand saving of £2 a square metre.
But we can draw our own conclusions about whether well-heeled renters in a luxury tower would have received the contempt dished out to Grenfell's council tenants after they published detailed reports on their homes being firetraps. Those local politicians who gave council taxpayers a sizeable rebate even while starving local services of funds have evidently chosen whose side they are on – and it's not that of the families who have been made homeless.
The 19th-century industrialists who resisted the factories acts would recognise a kindred spirit in Boris Johnson, who has claimed "health and safety fears are making Britain a safe place for extremely stupid people". The next TV interviewer to face the foreign secretary should ask him either to repeat those words or apologise for them. But the deadliest rationale came from David Cameron, who as PM wrote off the legal protections given to workers and consumers as "an albatross around the neck of British businesses". I cannot remember a more brazen recent statement of profits before people.
To look after its properties, the council created the largest management organisation of its type in England – unfeasibly large, it turned out, and unaccountable to its own tenants. This was the £11m-a-year body that handed the £10m refurbishment contract to the builder Rydon. The best that can be said of such outsourcing – whether in managing flats or running council departments – is that the public ends up paying more for a service that's worse. It allows big companies to profiteer from basic public needs, and to evade democratic control.
Spectacular examples of social violence, such as Grenfell, are thankfully rare. They usually occur out of public sight. This decade of austerity has been a decade of social violence: of people losing their cash income for not being disabled enough, of families turfed out of their homes for having more than two kids or a bedroom the state deems surplus to requirements. These are tales of private misery, of a person or a household behind a closed door plunged into stress, anxiety, depression or worse.
Last year I met a Parkinson's disease sufferer, Paul Chapman, who after being put through a fitness-to-work assessment and having most of his benefits cut told his wife, Lisa: "I'll clear off and I won't take my tablets or my insulin. And it'll be over then. I won't be here."
Others have told me of friends who didn't only express such impulses, they acted on them. Their last days will have been soundtracked by a government deriding "skivers". Years of public bullying and official harassment of the poor have funded the £93bn of tax breaks and bungs chucked at big corporations, property developers and outsourcing firms.
Austerity is at the heart of the Grenfell story. Think of the firefighters, who have seen stations closed and colleagues laid off by May, when she was home secretary. Consider the nurses treating the dying and the maimed, who will be on lower pay now than they were in 2009.
Most of all, remember this: the cuts made since 2010 were the poor picking up the tab for the venality of rich bankers. The two are jammed up next to each other in Kensington and Chelsea, one of the richest and most unequal patches of land in the world. Just minutes away from Grenfell, you can find a house for sale at £30m (albeit "in need of full modernisation"). The residents of the investment-starved Tower died last week did so partly because of the greed of their neighbours.
Spending cuts, deregulation, outsourcing: between them they have turned a state supposedly there to protect and support citizens into a machine to make money for the rich while punishing the poor. It's never described like that, of course. Class warfare is passed off as book-keeping. Accountability is tossed aside for "commercial confidentiality", while profiteering is dressed up as economic dynamism. One courtesy we should pay the victims of Grenfell is to drop the glossy-brochure euphemisms. Let's get clear what happened to them: an act of social murder, straight out of Victorian times.