Judge rules up to a fifth of people sent to prison for failure to pay council tax last year were jailed unlawfully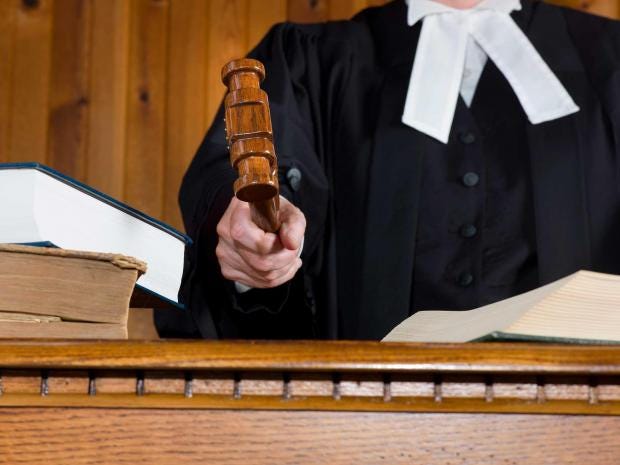 The High Court has admitted up to 17 people in England and Wales were unlawfully sent to jail for not paying their council tax last year – but it refused to accept this constituted "systematic failings" by the courts.
A case brought by a single mother who successfully challenged a court's decision to imprison her over unpaid council tax last January argued the system of enforcement operated by the magistrates courts was "inherently unfair". The Welsh national accrued £4,700 in council tax arrears after losing her job, struggling to pay rent and feed herself and her son.
Despite making a payment of £100 towards her debt, she was sentenced to 81 days in prison.Ms Woolcock spent 40 days in jail before the Centre for Criminal Appeals (CCA) challenged her detention and she was released on bail. She subsequently launched a legal challenge against the Secretary of State for Communities and Local Government, the Secretary of State for Justice, and Welsh Ministers, alleging that systematic failings are to blame for high rates of unlawful imprisonment of people for council tax debts.
Arguing on behalf of Ms Woolcock, Barrister Cathryn McGahey QC put forward evidence that the number of unlawful imprisonments each year stand at 52 per cent of all sentences for unpaid council tax. She alleged that incorrect means assessments or an erroneous judgement that failure to pay was because of "culpable neglect" or "willful refusal" were additional reasons why such imprisonments may be unlawful.
Lord Justice Hickinbottom's analysis of the 95 individuals sent to prison found that between nine and 17 individuals were imprisoned unlawfully because the court ordered repayment over an excessive window of time. The judgment, handed down at the High Court in Cardiff, found that some magistrates had been "ignorant of well-established law" to a point that was "unacceptable", and suggested that further training and guidance may be issued to legal advisors and solicitors to address these problems.
But it ruled that individual errors were to blame for the high number of mistakes and stated that oversights made by a proportion of magistrates in council tax cases did not amount to a systematic deficiency.
Single mother unlawfully jailed for late council tax payment
MrJustice Hickinbottom said: "Of course, in each case, an individual has lost his or her liberty on the basis of an unlawful order; and that level of error by magistrates is of concern and unacceptable. "But neither the numbers nor the proportion of cases in which that error was made, without more, in my view, comes close to being sufficient to draw the inference that there is a problem inherent within the system."
Giving evidence in court, Sian Jones, who is employed by HM Courts and Tribunals Service as the Justices' Clerk for Cambridgeshire and Essex, admitted that the case had "exposed significant failings in judicial decision-making, and a clear training need". She added: "My recommendation is that the MLG should recommend to the chair and the Judicial College that the college should mandate training for legal advisers and that training should be considered by the relevant bodies for the other participants to the process."
Responding to the ruling, Ms Woolcock said: "I obviously think people should not go to prison for being unable to pay (council tax). People lose their jobs and homes, what is being achieved by these actions?"
Samuel Genen, Ms Woolcock's solicitor, told The Independent:"We are disappointed that the claim was unsuccessful. We remain concerned that despite training further people inevitably will be imprisoned unlawfully in the future.  "This is a problem that dates back decades and seems to continue to persist. Unlawful imprisonment for debt is not a matter of percentages, there is a human cost."
Naima Sakande, women's justice advocate at the Centre for Criminal Appeals, which helped launch Ms Woolcock's legal challenge, said: "The price of ignorance in these cases is simply too high. The judgment has exposed some deep failings in the council tax system. "The toll of being sent to prison unlawfully cannot be overstated and more must be done to protect society's most vulnerable from needlessly losing their liberty. Poverty is not a crime and our judicial system needs to do more to acknowledge this."