Free school meals vouchers will end just as summer break starts.
Why Does Boris Johnson's 'Whatever It Takes' Pledge Not Apply To Child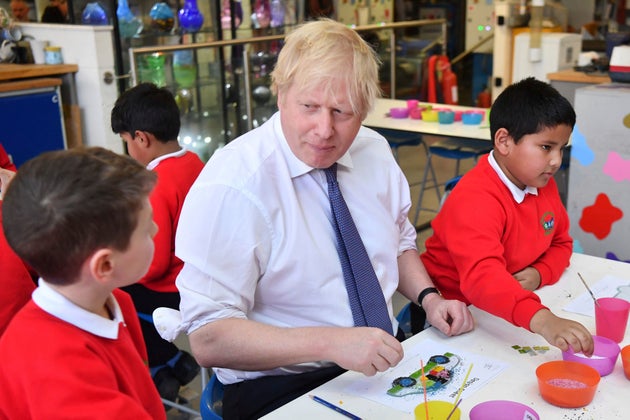 Making a meal of it
Today, the Office for Budget Responsibility forecast that the government is set to spend £132.5 billion on its full range of measures aimed at dealing with the Covid-19 crisis. From loans to business to paying the wages of furloughed staff, the huge injection of state help offers some respite for millions hit by the pandemic.‌
But contrast the scale of that figure with the aid being offered to England's poorest children in coming weeks. In what will come as a bitter blow to their parents, the PM's official spokesman informed us that the free school meals voucher scheme will end as soon as the summer holidays start.
read more
The programme, which gives families £15 a week to spend in supermarkets to feed their kids, has helped 1.3m children in recent weeks. Under pressure from charities and teachers, it was extended over Easter and the late May half-term holiday. The programme was far from perfect, but it fed hungry kids. It will now come to an abrupt halt the moment schools formally break up for summer in July.
The cost of extending the scheme over the six-week summer holiday would run to a few hundred million pounds, which is relatively small change in Whitehall terms. And it's worth remembering the sums involved individually: just £15 a week per child. That may not sound a lot, but for families on the breadline it makes a big, big difference.
In many ways it's a scandal that poorer parents don't already have free school meals guaranteed during school holidays. The mouths still need feeding, so families have to find the money by cutting back on other things. And with coronavirus seeing more people's income squeezed and furloughed jobs hanging by a thread, the need is more pressing than ever.
There are local summer play schemes for children that do offer free meals, but they often rely on charity and can't reach everyone. No.10 tried to defend itself today by pointing to a £9m pot of cash (yes, £9m) that activity clubs can apply for. Yet the group Feeding Britain says it would have to be massively expanded in order to reach every child who needs help.
Boris Johnson and chancellor Rishi Sunak have both pledged to spend 'whatever it takes' to help Britons get through the crisis. They talk time and again about how "generous" their state support is. But those words may taste like ashes in the mouths of parents who will again struggle to feed their kids through July and August.
What's even more worrying about the government's blindspot on this issue is that the PM himself admitted yesterday that "there will be many, many job losses" this year. The number of people on Universal Credit, itself one of the eligibility criteria for free school meals, is set to soar even higher in coming months, as unemployment rises. "That is just inevitable," Johnson said.
So why isn't it similarly 'just inevitable' that his government would do something simple to prevent children going hungry this summer? And wouldn't that really prove he wants to 'level up' Britain's most basic inequalities?