Help The Hungry: How we are helping refugees forced to live on £5 a day. 'I was happy when Ramadan came because I was fasting and had to eat less,' one asylum seeker says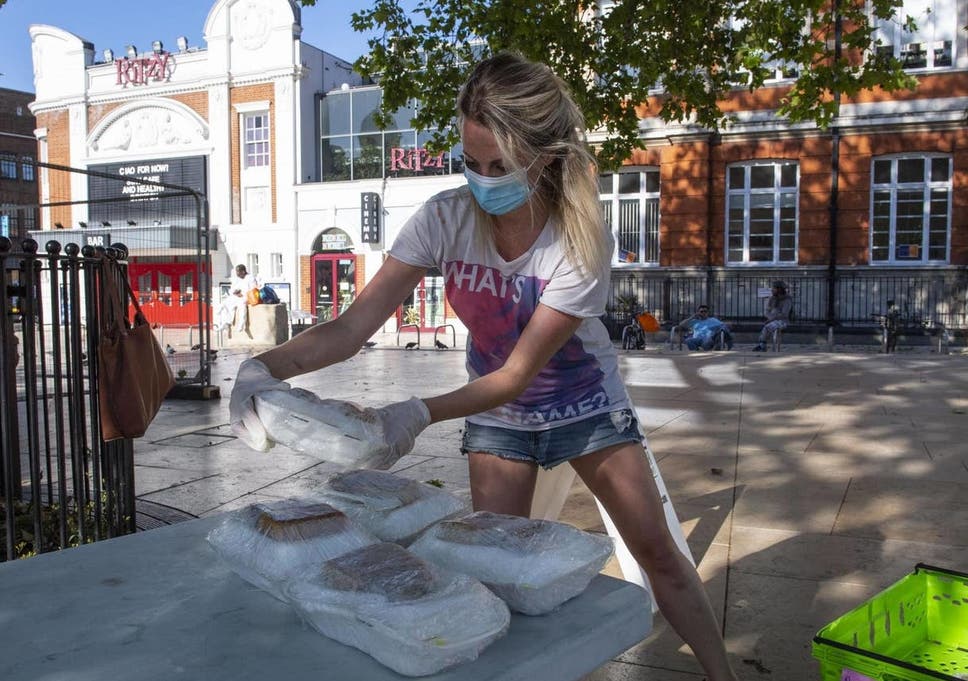 Ayaan shares one bedroom with her seven children. Malek is couchsurfing and barely eats one meal a day. Ali suffers from tuberculosis and lies awake at night anxious for the family he left behind.
Refugees and asylum seekers have told The Independent of the suffering – including coping with hunger – the coronavirus pandemic has brought as they try to rebuild their lives in London.
Malek, a science teacher who escaped torture in Ivory Coast after attending a pro-democracy demonstration, regularly goes to bed hungry. "I was happy when Ramadan came because I was fasting and had to eat less," he said. On the day he spoke to The Independent, the only thing he had had to eat was rice with peanut sauce.
Help Refugees estimates that there are more than 5,000 asylum seekers in London, many struggling to access enough food. Josie Naughton, its co-founder, said: "We are hearing that refugees and asylum seekers are feeling even more isolated since the pandemic. Asylum seekers can be heavily reliant on food banks, which are under strain."
Malek's asylum claim was rejected by the Home Office and he has appealed. He is struggling with money while staying with friends. A charity brings him vegetables and canned food each week, but "it's not really enough", he said.
After an initial screening, asylum seekers are entitled to temporary accommodation and a budget of £5 a day. If their claim is rejected, they have to rely on the support of charities like Freedom from Torture, the non-profit organisation that is helping Malek. They do not have the right to work or claim universal credit.
The Independent brought Malek's situation to the attention of the Refugee Community Kitchen in Brixton – supplied by our Help The Hungry appeal partner, The Felix Project – and it has organised for him to receive a weekly food parcel. In the case of Ayaan, it was the Somali Civil War that brought her to Britain in 1990. She received asylum and is applying for indefinite leave to remain, but she has struggled during lockdown to provide for her seven children. "There were many times we had no food and I had to pretend that nothing was wrong," she said over FaceTime.
She lives in north London and is supported by the Barnet Refugee Service, whose pop-up food bank serving 220 clients is also supplied by The Felix Project. "You can imagine when you have kids stuck at home and you don't have much to provide them," she said. In her food packages, she receives bread, rice, meat and laundry detergent. "It means everything."
Ali, 49, arrived five months ago from Syria and applied for asylum on arrival. Due to a spell sleeping rough, he suffers with latent tuberculosis which could make him vulnerable to Covid-19. He lives in shared temporary accommodation with four other asylum seekers and struggles with the uncertainty of waiting for his asylum interview.
The Home Office has not conducted any substantive asylum interviews since mid-March, leaving many people in limbo. A Home Office spokesperson said: "We have a proud record of supporting asylum seekers and during the pandemic we have taken action to ensure their wellbeing is maintained. We have also adjusted asylum processes, including bringing in online video interviews, where appropriate."
But Ali said he struggled to feed himself on his shoestring £5-a-day budget and that the Felix-supplied food he received from Barnet Refugee Service had saved his life. "Coronavirus gave me problems because I can't go to the supermarket. I would die without this food."
Farida Stanikzai, operations manager at Barnet Refugee Service and herself a former refugee, said that her organisation was supporting 150 children (of whom 85 were unaccompanied) with education and food parcels.
Ali, who was a doctor back home, is despairing, having heard nothing from the Home Office. "Nobody cares about us," he said. Ms Stanikzai attempted to reassure him. "Better days will come."